SCML1+1SL
COD. SCML1+1SL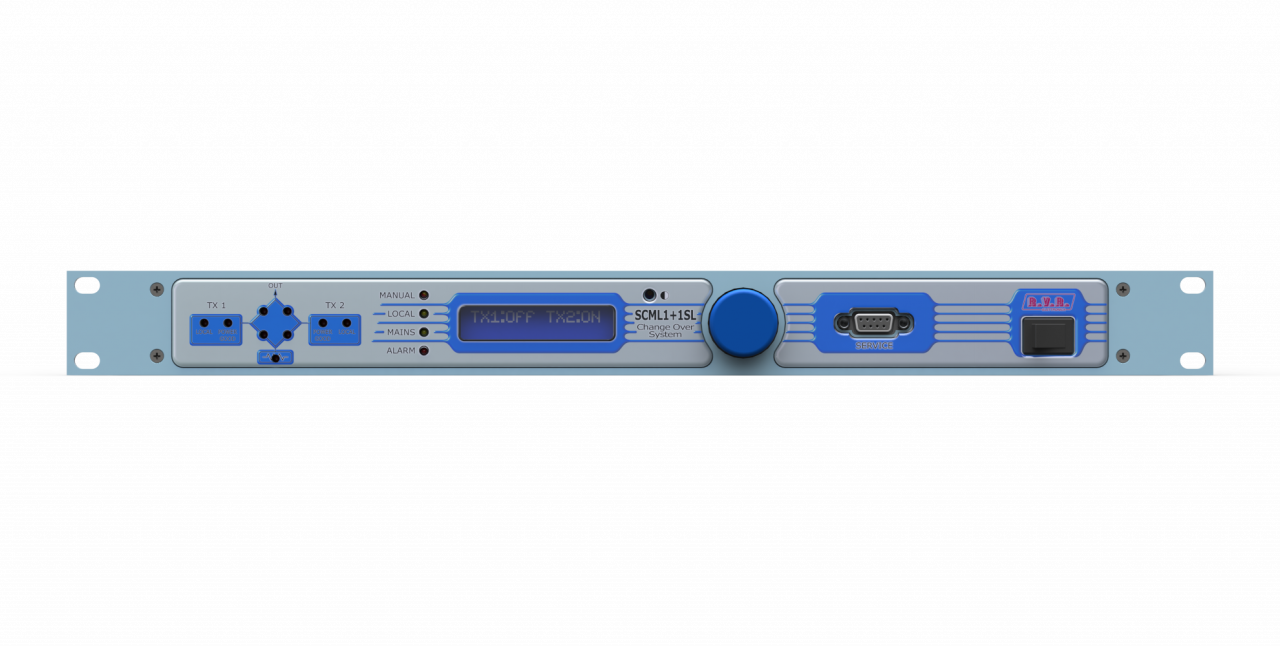 Compact exchange unit for 1 + 1 systems with coaxial relays of any size.
FEATURES

Smart and cost-effective changeover compatible with all RVR transmitters.
Automatic changeover function across main and spare transmitters.
Features 24V connector that could be used as backup power in case of main power failure.
Lightweight and rugged stainless steel 1 HE rack case.
No need of external "IB" interconnection box.
Remotable via IP through the TLK300 Telemetry.
SCML1+1SL
Parameter
 
U.M.
Value
Notes
GENERALS
Integrated coax-relè
Only /V2
 
Yes
 
Ambient working temperature
 
 
-10 °C  to + 50 °C / 95%
Relative humidity non condensing
POWER REQUIREMENTS 
AC Power input
AC Supply Voltage
 
115 - 125 - 230 - 250 VAC ±15%
 
 
Active Power Consumption
 
W
 
 
Connector
 
VDE IEC Standard
 
DC Power input
DC Supply Voltage
 
24 VDC
 
 
DC Current
 
A
 
MECHANICAL DIMENSIONS
Phisical dimensions
L x H x W
mm / inch
483 / 19
EIA Rack
 
 
mm / inch
44 / 3 1/2
1HE
Weight
 
kg
About 0,3
 
Cooling
 
 
Convection cooling
 
Acoustic noise
 
dBA
  0
 
AUDIO INPUTS
Analog
 
 
Specific RVR connectors
 
Digital/Analog
 
 
Specific RVR connectors
 
OUTPUTS
Relay
 
 
Specific RVR connectors
 
INTERFACES
User interface
 
 
LCD - 2 x 16  with Encoder
 
Signalling LEDs / Synoptical
 
 
Yes
 
I2C
 
 
Yes
 
TC/TS
 
 
Yes
 
FUSES 
On mains
 
 
1 External fuse 1,6 A T - 5X20  mm
 
On services
 
 
X
 
On PA Supply
 
 
X
 
On driver supply
 
 
X