AES6/1 (accessory)
COD. AES6/1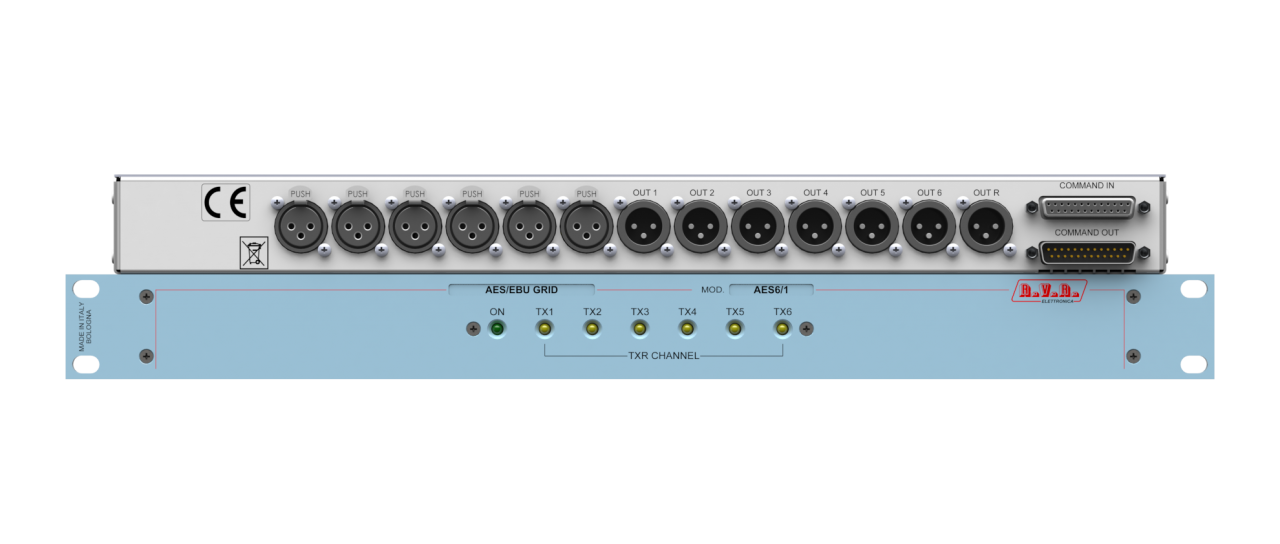 Passive AES/EBU audio signal switch unit for SCM6/1 changeover.
FEATURESPRIMARY APPLICATION:
this device is specifically used for changeover between digital AES-EBU audio signals in conjunction to SCM6/1 changeover system.
HARDWARE FEATURES:
the system housed in lightweight and rugged stainless steel rack cases having the dimension of 1 HE.
USER-FRIENDLY FEATURES:
the front panel features a series of led that indicate instant power supply and changeover systems status.
EASE OF MANTENANCE:
all RVR changeover systems are assembled using modules and boards with connectors so that it is easy to remove, replace and add modules and boards.
INTERFACE CONTROL:
the rear panel features all connectors that could be necessary for the proper operation of the changeover system.
Changeover unit between digital audio signals that supports AES/EBU in conjunction to the SCM6/1 changeover system. 
Can be integrated to the SCM6/1 even in presence of the AUD6/1 analog audio changeover. 
Lightweight and rugged stainless steel 1 HE rack case.
AES6/1
Parameter
 
U.M.
Value
Notes
GENERALS
Ambient working temperature
 
 
-10 °C  to + 50 °C / 95%
Relative Humidity non condensing
MECHANICAL DIMENSIONS
Phisical dimensions
L x H x W
mm / inch
483 / 19
EIA Rack 
 
 
mm / inch
88 / 3 1/2
1HE
Weight
 
kg
About 1,4
 
Cooling
 
 
Convection cooling
 
Acoustic noise
 
dBA
0
 
AUDIO INPUTS
AES/EBU (from 1 to 6)
Connector
 
XLR female
Balanced
 
Impedance
Ω
110
 
OUTPUTS
AES/EBU (from 1 to 6) & Reserve
Connector
 
XLR male
Balanced
 
Load
Ω
110
 
INTERFACES
Signalling LED
Power
 
1 Green
 
 
Position
 
6 Yellow
 
COMMAND
IN
 
DB25 Female 
 (AUD6/1 interface)
 
OUT
 
DB25 Male 
 (RDS6/1 interface)