TLK300
COD. TLK300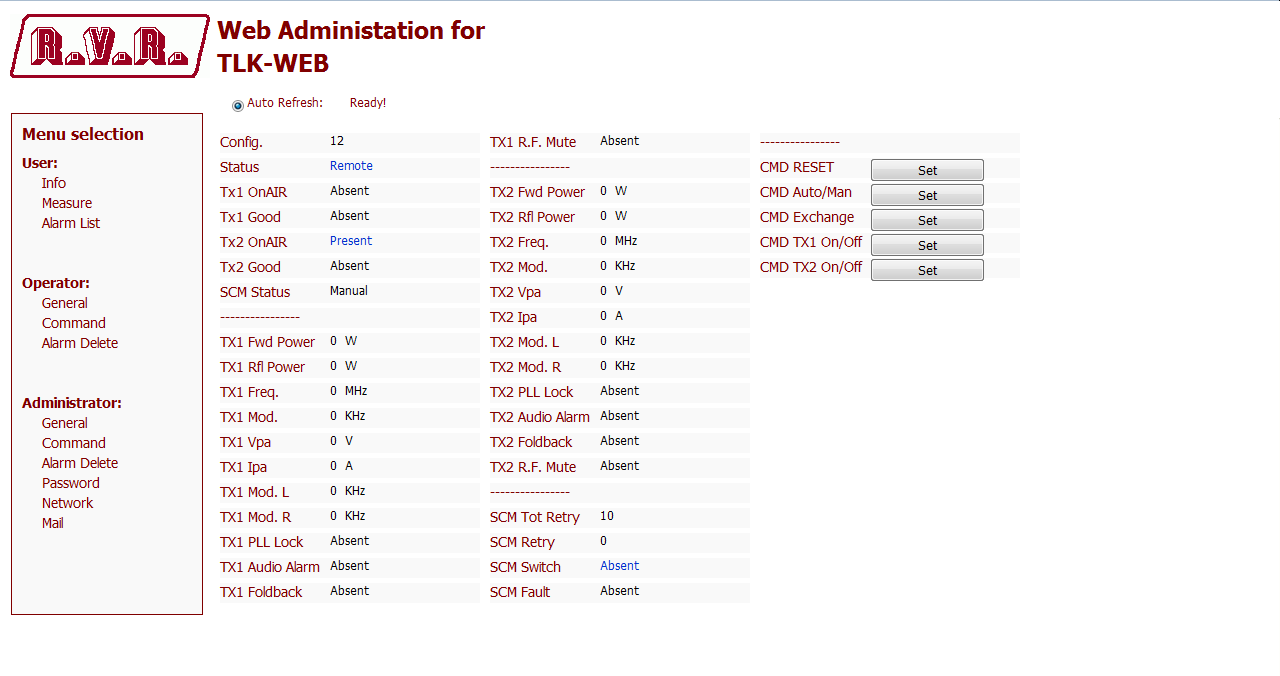 The telemetry systems allow for an immediate intervention in case of fault, thanks to the radio station remote control. Equipment great flexibility makes it possible to control a high number of devices or to modify the station layout.
FEATURES

Professional Telemetry System at SNMP V 2 level for real time control.
Compatibile with all RVR scalable transmitters: Modular (air and liquid cooled) and Hot Plug-in.
Can remote single and dual drive transmitters.
Integrates several interface and protocols for transmitter's connection: RS232/RS475/I2C.
Multiple connectivity: over IP, GSM.
RJ45 for LAN connections, antenna for RF input for the monitor.
Front panel with leds indicating the operating status of the system for immediate diagnosis.
Universal Power supply.
Can be powered with an external DC source (15-24V) to assure continuity in case of main power failure.
Boards and main components are assembled separately for easy maintenance and upgrade.
TLK300
Parameter
U.M.
Value
Notes
GENERALS
Ambient working temperature
-10 °C to + 50 °C / 95%
Relative humidity non condensing
POWER REQUIREMENTS
AC Power input
AC Supply Voltage
VAC
80 - 260
Full Range Monophase
Active Power Consumption
W
25
Connector
VDE IEC Standard
DC Power input
DC Supply Voltage
VDC
12
DC Current
< 3 a
MECHANICAL DIMENSIONS
Phisical dmensions
L x H x W
mm / inch
483 / 19
EIA Rack
mm / inch
44 / 3 1/2
1HE
Weight
kg
About 4,3
Cooling
Convection cooling
Acoustic noise
dBA
0
INTERFACES
Signalling LEDS
Yes
Display
40X2 Alphanumerical
No
Push buttons
4 (UP, DOWN, ENTER, ESC)
No
USB
TELECON Protocol
Yes
RS232
TELECON Protocol
Yes
RS485
PLUG-IN Protocol
Yes
(Only on TX PLUG-IN CA versions)
I2C
Yes
RJ45
LAN
Yes
(Only on WEB versions)
10/100 base-T Ethernet LAN
Yes
HTTP and AJAX
Status and configuration can be accessible from any internet browser on a PC or smartphone
SMTP
Alarm notification events sends via emails (up to 4 independent address can be defined)
SIM slot & ANTENNA
Yes
(Only on GSM versions)
FUSES
On mains
1 External fuse F 1 A F - 5X20 mm
On service
X
On PA Supply
X
On driver supply
X