TLK302T
COD. TLK302T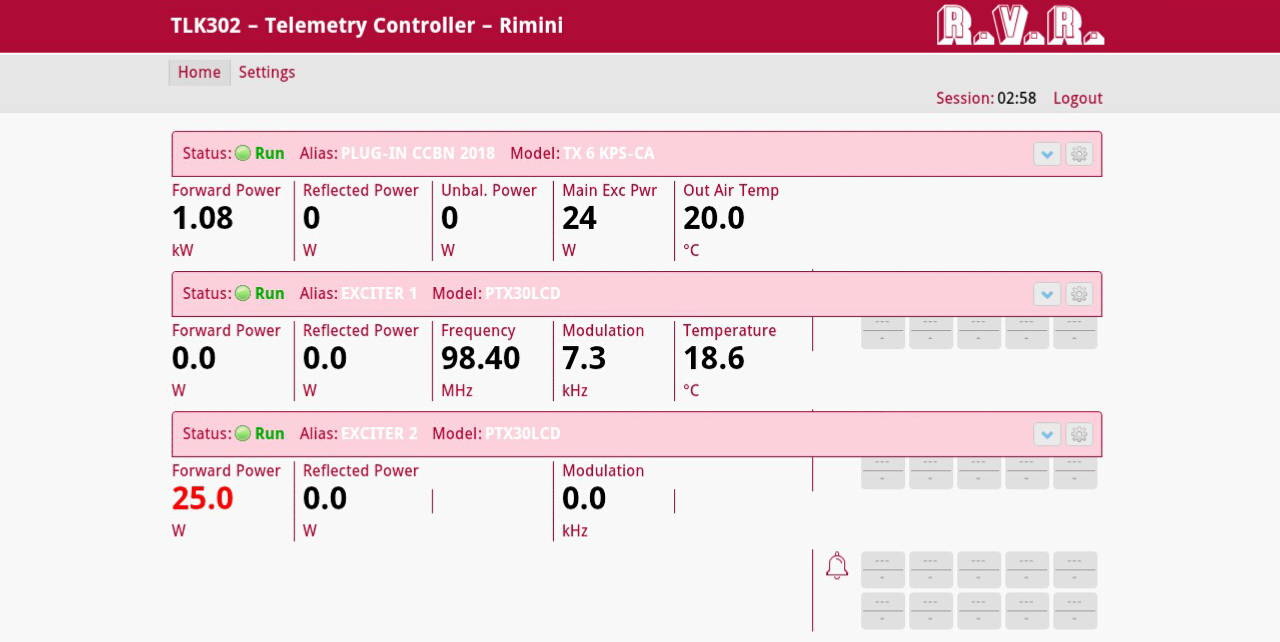 TLK302T is an evolution of the TLK300 Telemetry Serie that includes additional functions for telemetry, Monitoring of the FM signal , Storage of TLC and TLS , WI-FI Router and Interface to an PC and wide Touch Screen Interface. Telemetry unit WEB.
FEATURESPRIMARY APPLICATION:
the TLK302T telemetry systems is an advanced REMOTE CONTROL unit at SNMP V 2 level that allow a detailed real time Telecontrol and Telecommand of the Componets of the Radio Station. 

TELEMETRY FEATURES:
the TLK302T is a flexible and modular Telemetry Unit available in various versions for IP connection, via GSM-2- 5G-LTE or both in the same cabin.


CONFIGURATIONS:
The TLK302T is available to support the different configuration of Transmitters of the RVR Family: Modular, KPS, TEX, PTX, BARRACUDA as single driver or dual driver, in 1+ 1 and N+1 configuration. 
HARDWARE FEATURES:
The TLK302T is housed in lightweight and rugged stainless steel rack cases having the dimension of 1 HE, the cabin is prewired to accept some slide-in options that can be upgraded on field. 
USER-FRIENDLY FEATURES:
On the front panel of the TLK302T there are several LEDs that indicate the operating status of the system and allow an immediate diagnosis of the functionality and connections. 
EASE OF MANTENANCE:
TLK302T is made of modular design, the boards and the main components are assembled with plug-in to facilitate ugrade and the maintenance. 
RELIABILITY/CONTINUITY:
the telemetry systems TLK302T can be powered with an axternal DC Sources (15-24V ) to assure a Power Supply Backup to the Mains Power Supply in case of mains power failure. 
INTERFACE CONTROL:
the rear panel features all connectors that could be used to connect the equipment to the various station components. The telecon software, as well the WEB interface used for remote management, features a user-friendly HMI and is fully compatible with any WEB browser. 
FRONT PANEL:
on the front panel there are LEDs that indicate the TLK302T and Monitorin operation, an Headphone connector foe direct Audio Monitor, a general Power Switch. 
BACK PANEL CONNECTIONS:
on the back panel of the TLK302T all connector : RJ45 for two LAN connections, antenna for RF input for the monitor, connectors for the GPIO of Telemetry and Monitor. 
PROGRAMMABLE GPIO : CE CONTROL:
For customised applications, are available 9 programmable GPIO (three for each connected Device) to provide alarms using selectable mode such as SMS, MAIL, SNMP, I/O - CONTACT.
TLK302T
Parameter
 
U.M.
Value
Notes
GENERALS
Ambient working temperature
 
 
-10 °C to + 50 °c / 95%
Relative humidity non condensing
POWER REQUIREMENTS
AC Power input
AC Supply voltage
VAC
100 - 240
Full range monophase
 
Active power consuption
W
15
 
 
Connector
 
VDE IEC Standard
 
MECHANICAL DIMENSIONS
Phisical Dimensions
L x H x W
mm / inch
483 / 19
EIA Rack
 
 
mm / inch
44 / 3 1/2
1HE
Weight
 
kg
About 1
 
Cooling
 
 
Convection cooling
 
Acoustic Noise
 
dBA
O
 
INTERFACES
Signalling LEDs
 
 
Yes
 
RS232
 
 
Yes
(Only exciter PTX)
RS485
PLUG-IN protocol
 
Yes
(Only TX PLUG IN-CA version)
I'C
For sampling the RVR station single and dual exciter
 
Yes
 
RJ45
10/100 base-T Ethernet LAN
 
Yes
 
 
HTTP
 
Status and configuration can be accessible from any internet browser on a PC or smartphone
 
 
SNMPV 2.0
 
Status and configuration can be accessible from MIB browser and TRAP alarm receiver
 
 
SMTP
 
Alarm notification events sends via emails (up to 2 independent address can be defined)
 
 
SNTP
 
Built-in dock synchronization over networks
 
FUSES
 
On Mains
 
 
1 External fuse F 3,15 A T - 5X20 mm
 
On service
 
 
X
 
On PA Supply
 
 
X
 
On driver supply
 
 
X