TRDS4002-LUXOR-D
COD. TRDS4002-LUXOR-D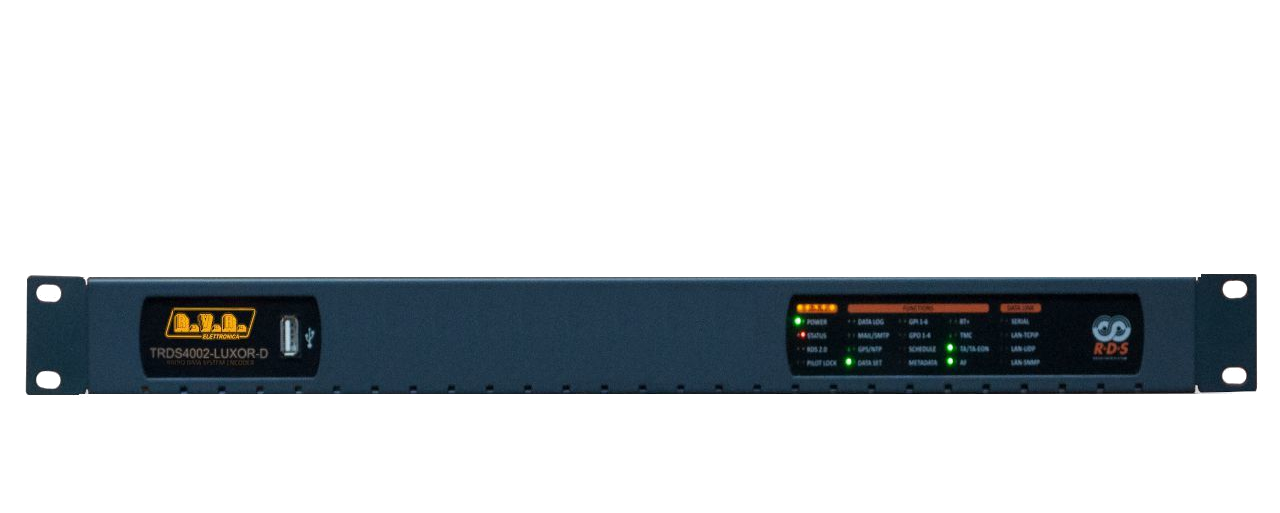 Advanced Radio Data System dynamical encoder with SNMP V 2 control.
FEATURESPRIMARY APPLICATION:
the TRDS4002-LUXOR is a RDS encoder designed to support all popular services provided by UECP SPB490 including dynamic services like TMC, TDC, IH, EWS and RT+, and it uses fully digital technology to guarantee a very high quality of modulation and spectral purity.
TECHNICAL FEATURES:
the TRDS4002-LUXOR is fully digital and it uses only high quality components like A/D and D/A converters at 24 bit and numerical processing at 32 bit. Using the WINRDS+ software you can assign station and apparatus codes in order to be able to selectively program any
TRDS4002-LUXOR remotely such as satellite, LAN or Internet. The firmware can be updated via serial port without need for hardware settings and without interruption of service.
INPUT/OUTPUT INTERFACE:
it can integrate an advanced BYPASS system between MPX input and outputs that ensure the service also in the event of failures (version TRDS4002-LUXOR-C).
HARDWARE FEATURES:
the system housed in lightweight and rugged stainless steel rack cases having the dimension of 1 HE.
Fully support of all RDS services, Static and Dynamic.
RDS encoder fully compliant with UECP EBU SPB490 v7.05, CENELEC ( uropa) and NRSC (America).
UEPC Ports (2 Serials, 4 TCPIP, 4 UDP).
N. 8 Data Set. and 10 EON + Main PS for each Data Set.
Integrated RDS decoder.
Dataset switch managed by UECP/SNMP/REST/HTTP/ASCII PARSER/TXT FILE/GPI.
Can get autonomously data from the Radio Automation Systems (PS/RT/RT+/TA/MS).
Easy RDS page fast setup.
RDS Groups data analyser.
Ethernet/USB/RS232/GPIO connections and easy WiFi Access.
Possibility to send email to 4 receivers and to set 3 different SMPT servers. SNMP V2c.
Possibility to set up to 3 NTP Servers (V1, V2, V3, V4).
IPV4 and IPV6 support (3 addresses IPV4 and 3 addresses IPV6).
N°2 RS232 for UECP commands.
6 GPI and 4 Relay Out (all GPIO are fully programmable by the GUI).
HTTP, FTP, SNMP, SMTP, UDP, TCP support.
Alarms via : TRAP (SNMP), email (SMTP), GPO, HTTP.
External GPS support (Time, Date and Geolocation).
uSD Card for clone function, for maintenance and easy replace of a faulty unit.
Logs 24/7 with export function.
6 levels of right access managment.
Multi-user contemporary access.
Import and export configurations function.
Multi-user contemporary access.
TRDS4002-LUXOR-D
Parameter
U.M.
Value
Notes
GENERALS
Operating temperature
From -10°C to +50°C
Operating humidity
%
95
Non condensing
A/D & D/A conversion
24 bit
DSP Elaboration
32 bit, fixed point
RDS function
EN50067
PTY, PTYN, TA, TP, MS, DI, PI, PS, AF, PIN, EON, RT, TDC, IMC, EWS, IH, CT
Command formats
UECP – SPB490 Ver.6.1 / 2003
Frequency
57 kHz ± 1,5 Hz
(Internal/external reference)
57 kHz carrier attenuation
dB
Ø 75
Phase 57 kHz
Adjustable up to 360° in 0,33° increments
Out of band emission
dB
Ø 100
POWER REQUIREMENTS
AC Power input
AC Supply voltage
115 /230 VAC ± 10%
Connector
VDE IEC Standard
MECHANICAL DIMENSIONS
Overall dimensions
L x H x W
mm /inch
483 / 19
EIA Rack
mm /inch
44 / 3 1/2
1HE
Weight
kg
About 3,5
AUDIO INPUTS
MPX
Connector
BNC
Unbalanced (female)
Impedance
k Ω
10
Input level
Gain 0dB / Max. +20 dBu
PILOT
Connector
BNC
Unbalanced (female)
Impedance
k Ω
10
Input level
Gain 0dB / Max. +20 dBu
(Sinusoid. or TTL)
OUTPUTS
1&2
Connector
BNC
Unbalanced (male)
Impedance
Ω
50


Output level
+20 dBu
Adjustable via software
CONNECTORS
RS232 Serial port
Connector
3x DB9 (female)
Connection rate
From 1200 to 115200 baud 8, N, 1
Remote Input
Connector
DB25 (male): 8 input + 8 output (optional)
Ethernet
Connector
RJ45 (female): WEB & SNMP v.1.0 (optional) SNMP V2.C (TRDSP-4002-LUXOR-D)
WEB Server
Built in for TRDS4002-LUXOR-D